NOVA 2023
Once again, we're back once again!
Are we back? Oh yes, of course! It's been almost 17 years of our annual celebration of all things UK Demoscene!
NOVA 2023 returns of course to the world-famous Budleigh Salterton Public Hall. Its beautifully varnished multi-purpose wooden floors will once more be adorned with folding tables, network cabling and power distribution - everything you need to settle in to the event.
But is that it? Of course not! Our man Polynomial returns with wild ambition to bring the atmosphere up to unseen levels - the full complement of lasers and lights, our monster sound system and 5000 lumen Full HD projector ensures a marvellous time all around.
Are you new to the Demoscene? The Demoscene is an international computer arts subculture that specialises in the creation of Demos - self-contained computer programs for computers old and new showcasing the very best in visual splendour and technical ability. Core to the subculture are Demoparties, the social outlet for like minds to convene, socialise and share knowledge.
At Nova, we welcome everyone, so join us for a great weekend!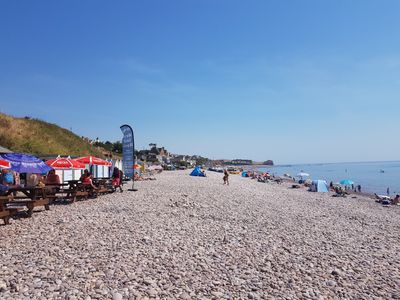 Visit Budleigh Salterton
Location
Budleigh Salterton is a town on the coast of East Devon in the South West of England. It is 15 miles from Exeter, and is situated within the East Devon Area of Outstanding Natural Beauty.
Budleigh Salterton also is the location of the start of the Jurassic Coast, the starting point for picturesque and compelling walks, as well as containing a variety of charming local shops, cafés and restaurants.
Source: Slengpung

Facilities

The large hall can accommodate at the most around 100 visitors - we do allow people to sleep overnight on location in our dedicated sleeping area but also recommend people consider a local hotel or B&B, camping or hostelling should you require solid rest.

Kitchen

The hall includes a well specified kitchen with commercial grade flame hobs, ovens, grill, high power microwave and ready boiling water to help with any food preparation you need to take care of. There is also limited refrigeration space; first come first served.

Networking

Kris Sum from Switch Systems will be providing us with our robust wireless and wired networking. We'll have a 60Mbit uplink to the internet and a complete Wuhu setup available throughout the duration of the party.
Competitions
NOVA caters for demo productions for new and old school platforms, as well as Photography and Wild competitions. Also, new for this year is the AI Wild competition, where you can use any AI tooling to generate a competition entry, as long as you show your work in progress.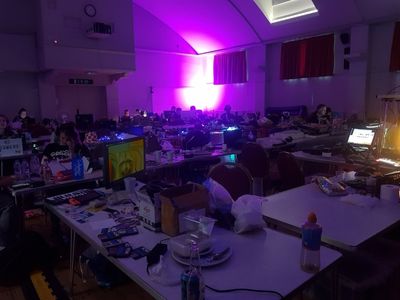 Demo Competitions

A full complement of competitions is the norm for NOVA - this year we will see the introduction of our new AI Wild competition.

Source: Violet Procyon

Music Performances

NOVA will have live DJing / performances —these will be announced soon!

Jackbox Games

As is the usual tradition, we'll be struggling through the hangover haze with a in-humour laden Jackbox Party Games session where we realise we don't understand the US references and carry on regardless. Almost certain to contain a shed-load of innuendo and silly banter.
Tickets
NOVA has an entry fee of £50
Supporter and Subsidised options are available.
Unable to visit NOVA?
Should you be unable to join us in Budleigh, it remains possible to witness the proceedings and/or contribute.
Enter compos remotely

Remote entries are welcome in *all* competitons!

Chat & watch the steam

Chat with guests or watch events on the official stream.